Blue Dart Q4 consolidated net up 52% on high volumes, better pricing
For FY2022, consolidated revenue was up 34% to Rs 4,410 crore while net profit nearly tripled to Rs 382 crore.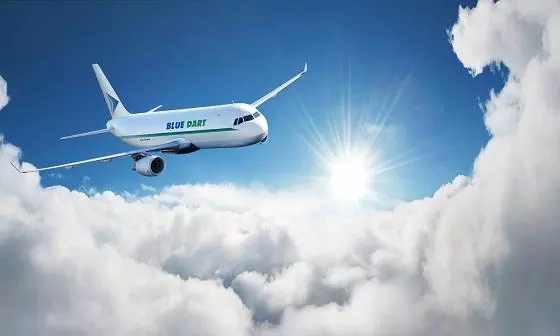 Blue Dart reported a 52 percent increase in consolidated net profit to Rs 137 crore ($18 million) for the quarter ended March 31, 2022 on healthy volume growth and better realisations.
Consolidated revenue from operations increased 20 percent to Rs 1,166 crore ($153 million), according to an official announcement.
For the year ended March 31, Blue Dart reported a 34 percent increase in consolidated revenue to Rs 4,410 crore ($580 million) and net profit nearly tripled to Rs 382 crore ($50 million).
"International charters which were initiated during the pandemic last year continued to support the company revenues in the current financial year," the statement said.
The board has recommended a total dividend of Rs 60 per share (600 percent). Since the company has already paid an interim dividend of Rs 25 in February 2022, the final dividend of Rs 35 per share would be paid subject to the approval in the Annual General Meeting.
"With improved receivables management and cash flows, the company, together with its wholly-owned subsidiaries, paid off all borrowings from banks which not only reduced finance cost but also became debt-free."
Blue Dart carried 264 million (186 million last year) shipments of 932,690 tonnes (718,521 tonnes last year) in 2021-2022.
"Throughout the year, we have shown outstanding resilience, responsiveness and reliability for all our stakeholders which is mirrored in our Q4 and year-end financial performance," says Balfour Manuel, Managing Director, Blue Dart. "Our focus on remaining customer-first, investing in our technology capabilities and thus, remaining agile in a VUCA environment, has helped the company improve its margins. FY 2021-22 has been a rewarding year.
"Across parameters, Blue Dart has once again embodied our vision in Connecting People, Improving Lives. We have been recognised as a Top Employer, a Great Place to Work as well as one of the Best Workplaces for Women. We stood strong, supporting our customers for all their logistics requirements."

The Blue Dart Med-Express Consortium is a prime example of the ability to leverage technology, Manuel added. "We will continue to invest in digitalisation ensuring that in the case of another unprecedented event such as the pandemic, supply chain continuity will not be disrupted."
As part of the Deutsche Post DHL Group, Blue Dart has contributed to over 10 percent of the DHL Group's global target of planting 1 million trees every year. Against a target of 30 percent, Blue Dart has achieved CO2 efficiency of 34 percent in 2021.