Air France-KLM Group Q2 cargo revenue down 34%
Resumption of passenger travel increases available tonne kilometres by 6.5% compared to Q22022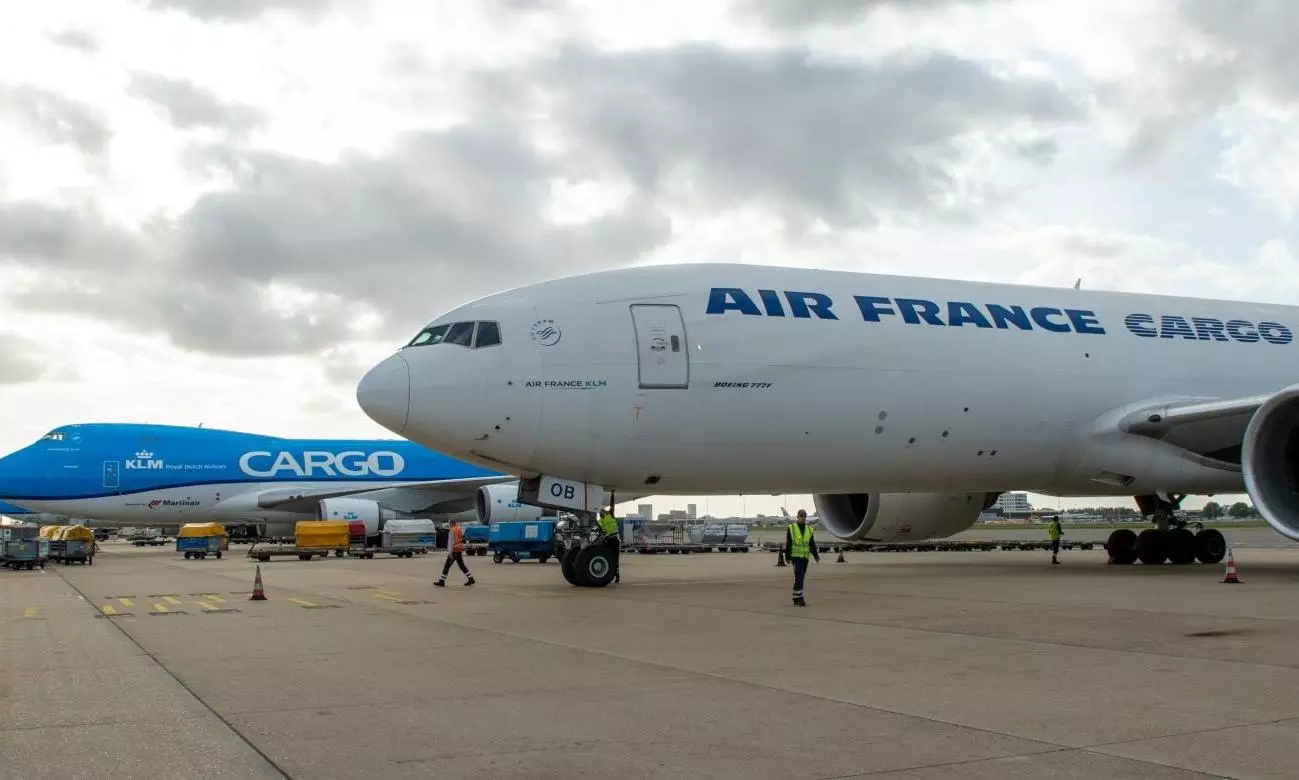 Air France-KLM Group reported a 34 percent decline in cargo revenue at €606 million ($673 million) on 6.5 percent increase in available tonne kilometres of 6.5 percent versus the second quarter of 2022.
Tonnage declined 10 percent to 213,000 tonnes and "as global economic growth is slowing down, container prices for sea freight declined and therefore demand for air cargo softened. The load factor was 7.3 points below 2022 and due to the increased belly capacity, the yield declined as well resulting in a decrease in unit revenue per available tonne kilometre of -42.1 percent against a constant currency," says an official release.
While Air France reported 11 percent decline in revenue tonne kilometre and six percent increase in capacity, KLM reported five percent decline in revenue tonne kilometre and seven percent increase in capacity.
The group has six cargo planes in operation (three B747-400ERF, 1 B747-400BCF and two B777F), unchanged from the quarter ended December 31, 2022.
Group revenue up 14%
Air France-KLM Group reported a 14 percent increase in revenue at €7.6 billion ($8.4 billion) for Q22023, and net income increased 86 percent to €604 million. Group capacity was at 92 percent compared to 2019 with load factor at 88 percent.
"We have again delivered a strong set of results during the second quarter of 2023," says Benjamin Smith, Group CEO, Air France-KLM Group. "In spite of the inflationary context, we posted double-digit growth in our revenues and a record operating margin. The rollout of new award-winning products across our airlines continued unabated, which serves as a testament of the commitment of our employees, whom I would like to thank.
"We were also busy throughout the quarter, actively preparing for the summer. I am very glad to see that the situation at airports is much better, including at KLM's hub at Amsterdam Schiphol Airport. This season notably serves as a test run for 2024 when France will host the Olympic and Paralympic Games, of which Air France is an official partner. Lastly, we have also continued delivering on our strategic roadmap, and secured ambitious partnerships in the field of sustainability, preparing for our medium to long-term future."
Net debt ended at €4.9 billion, an improvement compared to year end 2022 of €1.4 billion, the release added.
Group, Apollo in fundraise talks
Air France-KLM has entered into exclusive discussions with Apollo Global Management regarding the potential financing of €1.5 billion ($1.7 billion) to a dedicated operating affiliate of Air France-KLM. "This entity will hold the trademark and most of the commercial partner contracts related to Air France and KLM's joint loyalty programme (Flying Blue), and will become the exclusive issuer of miles for the airlines and partners.
"This financing would be accounted as equity under IFRS, allowing Air France-KLM to make a further step towards its commitment to restore its equity and strengthen its balance sheet, aside from net profit generation and/or straight hybrid bonds."
Air France-KLM and Apollo have also signed a definitive agreement for Apollo-managed funds to raise €500 million ($555 million) financing into an operating affiliate of Air France that will own a pool of components dedicated to Air France's engineering and maintenance activities, the release added.
"Under this agreement and subject to customary closing conditions, Apollo will subscribe to perpetual bonds issued by this ad-hoc operating affiliate and this financing will be accounted as equity under IFRS. The financing's proceeds will be allocated to general corporate purposes and support future components expenditures related to the maintenance activity."
The perpetual bonds will bear an interest rate of 6.9 percent for the first three years and gradual step ups and caps will be applied thereafter. Air France will have the ability to redeem them at any time after three years, the release added.