ACFI is calling; "sky is the limit for Indian air cargo"
The curtain raiser for the ACFI Annual Conclave 2023 also gave an update on the five issues it is dealing with.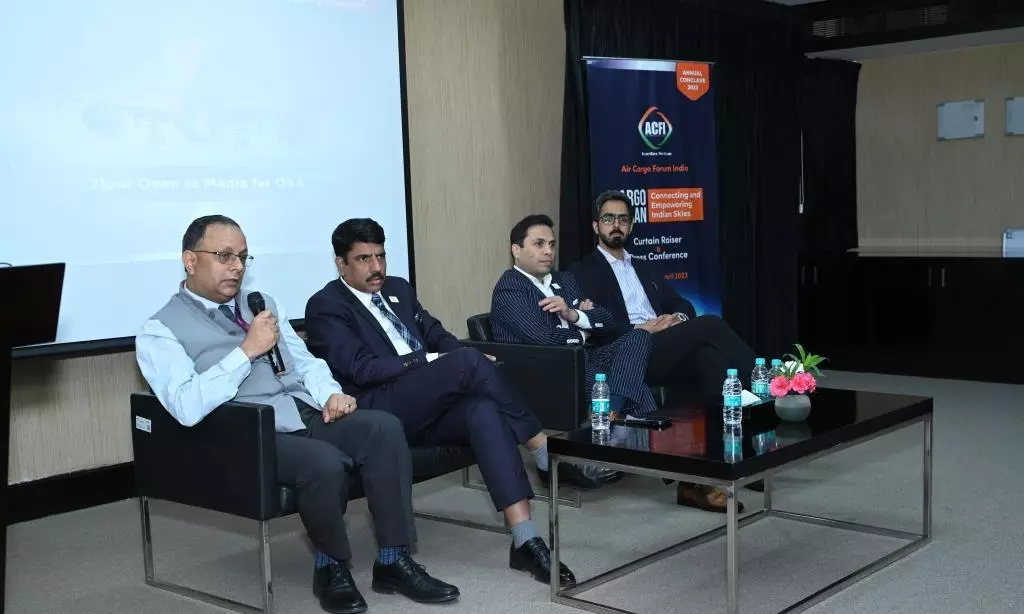 Air Cargo Forum India (ACFI) announced its Annual Conclave of 2023 to be held on Wednesday, May 3, 2023, at Le Meridian in New Delhi under the theme Cargo Udaan- Connecting and empowering Indian skies.

ACFI organised a curtain raiser event on Tuesday, April 25, 2023, prior to the event to brief its intentions and activities of last twelve months.
The ACFI Annual Conclave 2023 will have three business sessions
Session- 1 Air Cargo: The Business Galvaniser
Session- 2 International air cargo: Opportunities and challenges
Session-3 Domestic air cargo: Leveraging the potential of Indian domestic cargo
Register now: https://conclave.acfi.in
Yashpal Sharma, president of ACFI and managing director, of Skyways Group, expanded upon the ACFI tagline "Together we can" and noted that all stakeholders of Indian air cargo need to stand together. "Only if we stand together we will be heard and will be seen," he said.

He was explaining the previous challenges faced by India air cargo while communicating with government and regulatory officials as the views and demands were presented in silos and the government needed to verify them with other stakeholders and associations.
Satish Lakkaraju, board member of ACFI and SVP, global head – air freight & pharma at Wiz Freight defined ACFI as Attitude, Collaboration, Forward and Intelligence.
"ACFI as a platform has the right and positive attitude to everything the industry can achieve. But it can only achieve them with collaboration among stakeholders. The association is also forward-looking and wants to keep its focus there. The platform is powered by the intelligence and expertise of its members."
Started in 2012, ACFI is built on eight task force pillars and has eight chapters with Kerala being the latest one to join.
K.S. Kunwar, director general of ACFI briefed the audience about the achievements of the platform in raising issues of air cargo with various regulatory authorities and rated ACFI's success as 25-30% out of the total issues raised.
"In order to address the various challenges of air cargo logistics industry, the Ministry of Civil Aviation (MoCA) have created "Cargo Advisory Group" which is spearheaded by president ACFI from the trade side," he said.
The Cargo Advisory Group under the chairmanship of the union minister of civil aviation Jyotiraditya Scindia during its deliberations has shortlisted the five issues.
This includes allowing open sky in widebody freighter operation, promoting FTWZ/FCZ at the international airports, online single pan-India transhipment cargo bond, the need for having offices of participating government agencies (PGA)/ allied agencies at the 7 major gateway airports, creation of multimodal connectivity hubs at the six gateway airports.
Kunwar gave an update about the status of the issues raised. He said, "ACFI representation to Secretary Civil Aviation vide letter dated 18th Jun 2022 on the open sky is under the consideration of MoCA, The government has suggested going for FCZ in place of FTWZ and further being examined by ACFI task pillar on knowledge & research, Central Board of Indirect Taxes and Customs (CBIC) has issued an advisory to all the commissionerate for the implementation of both the transhipment issues and Chennai commissioner has issued a notification in this regard for implementation, A study report on the status of the positioning of PGA forwarded to MoCA for consideration and ACFI has prepared the required Terms of Reference (TOR) which has been forwarded to MoCA."