FROM MAGAZINE: AUTO SCM Summit 2018 initiates a dialogue to speed up efficiency in supply chain
The automobile supply chain stakeholders and regulatory authorities came together to discuss the challenges and their expectations to enable efficiency in supply chain operations.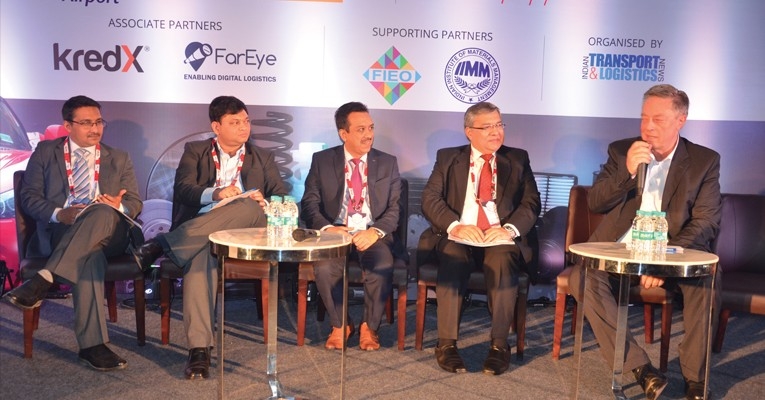 The automobile supply chain stakeholders and regulatory authorities came together to discuss the challenges and their expectations to enable efficiency in supply chain operations.
Nahida Jafferi
As the government plans to make the Indian automotive industry a pillar of industrial exports, the automotive supply chain stakeholders and regulatory authorities came together at the Auto SCM Summit 2018 to discuss its changing landscape and the role of logistics.
Sponsored by Frankfurt Airport, Europe's leading cargo airport for the third time in a row, the event was held in Chakan, Pune, a premier auto manufacturing hub in India. Roland Weil, VP-Sales Cargo, Fraport AG, said, "There is a lot of automotive business in and around Frankfurt. We are looking at improving connections to India. Frankfurt has nonstop connections to five Indian airports."
The event was inaugurated by Subhash Agrawal, Commissioner of customs, Jawaharlal Nehru Customs House, who urged automotive and logistics industry players to go for Direct Port Delivery (DPD) scheme, Authorised Economic Operator (AEO) status, and eSanchit to save costs and speed up the supply chain processes.
On the other hand, airports, custodians and airlines revealed that they are contemplating freighter operations from the airport in Pune, and also between domestic cities, as there is a good demand from the automotive segment as well.
B K Mehrotra, COO, AAI Cargo Logistics & Allied Services, said, "A big segment of automobiles is transported within the country by road. Sending a car from Delhi to Chennai could take 8-12 days which is long. To be able to exploit the air mode, airlines need to work on their tariff." Mehrotra envisages air cargo playing a bigger role in importing technologies from European countries for batteries to meet the demand for electric cars in India.
The Automotive Mission Plan 2026 predicts that the Indian automotive manufacturing industry will grow nearly four times in size from $66 billion in 2016 to $230 billion in 2026.
Commenting on whether there will be need for importing new technologies with new emission norms and the mission electric, Prasoon Singh, deputy GM, procurement & logistics, VE Commercial Vehicles, said, "The import content of the European cars in India has come down mainly because they have indigenized not just the vehicle but also all parts. A lot of new technologies will be imported from Europe and the Far East, but indigenization will also not be far behind."
The automotive manufacturers also expect the logistics industry to provide customized solutions for different products instead of having a one-size-fits-all solution.
"For us as 3PL service providers," said Huned Gandhi, Managing Director, Air & Sea logistics, Indian sub-continent, Dachser, "it is important to understand where our customers in the automobile industry are heading, in terms of technological advancement, in order to meet their expectations. Industry 4.0 talks about IoT, which has set in."
The panel discussions ranged from the changing dynamics of the auto industry, just-in-time trend, after sales services, infrastructure and skills gap, technology's role, policy and compliances for better growth, etc.
While the industry is reaping the benefits of GPS, Mandar Kothawade, head of logistics, Benteler Group, shared, "Our fleet downtime was 52 -56 hrs monthly. The GPS tracking system reduced downtime to 32 hrs monthly. I am a supplier for Maruti and Honda, and they always inquire about GPS usage and availability. The GPS technology is moving rapidly, but our pace of adoption and training has to also improve."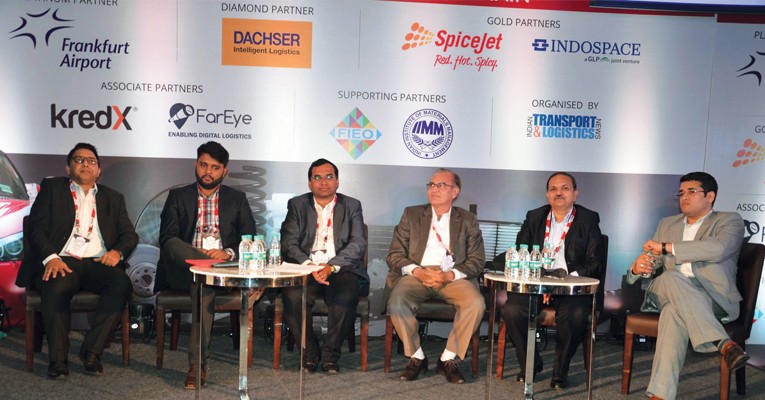 (L-R): Nitin Parab, Founder, MyTrux; Suryansh Jalan, President, FarEye Transportation; Mandar Kothawade, Head of Logistics, Benteler; Sudhir Gurtoo, MD & CEO, India, Leadec Industrial Services; Sudhir Gupta, Partner, Blue Ocean Global; Sachin S Kulkarni, Founder & Director, Avancer Technology Solutions
However, many drivers are a bit reluctant towards GPS technology. Addressing this point, Suryansh Jalan, President, FarEye Transportation, remarked, "GPS gives the drivers the freedom and ownership of their work. The driver gets to make more trips and collect more incentives, and he feels respected and an integral part of it. This is true for both, developed as well as developing third world countries."
Concerns over EV aftermarket
The domestic automotive aftermarket has grown at a compounded annual growth rate (CAGR) of 14 per cent in the last five years. A report by CII titled 'Transformation Shifts in Mobility and Impact on Aftermarket in India', envisions the auto aftermarket in Indian to touch Rs 75,000 crore by 2020.
However, the aftermarket industry for Electric Vehicles (EVs) has its own challenges. "Many start-ups are talking about battery swapping models for EVs. But there is a question of quality in terms of what you give and receive. Technology alone cannot solve the problem of counterfeit auto components. Availability of quality components is essential," said Sudhir Gupta, partner, Blue Ocean Global.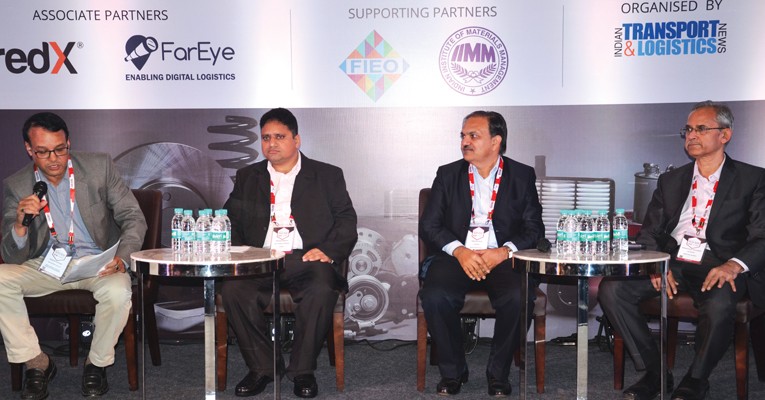 (L-R): Rakesh Pathak, Prof. Supply Chain & Logistics Management; Deepak Pandita, Assistant GM, Leadec Industrial Services; Sudhir Gupta, Partner, Blue Ocean Global; Shashikant Kulkarni, Treasurer, Indian Institute of Materials Management (IIMM)
Gupta further added that when Maruti and other big companies gather momentum in the EV segment, it will grow in a big way. Till then, only electric auto rickshaws and few point-to-point EVs will be seen.
The repairing and maintenance of EVs is not big a worry compared to the handling of EV batteries. There is another aspect of safety as most of the auto parts that travel through Indian roads go in carton boxes that lead to damages. Leadec provides returnable packaging solutions for the safety of auto components that includes, inventory tracking & monitoring of packaging equipment and its maintenance.
IoT driven auto supply chain
Auto manufacturing now includes big data-driven decision making, autonomous robots at factories, and integrated cloud computing that means heavy computation of big data. But how far has these technologies penetrated in the supply chain because there is still a lack of on-time deliveries?
While raising questions on the requirement on the amount of data due to data overload, Sudhir Gurtoo, MD & CEO, India, Leadec Industrial Services, stated, "Data silos are the stumbling block as the ownership of data is different."
Jalan responded, "There are many supply chain stakeholders that use different information systems that are not talking to each other, leading to an info black box. An IoT enabled platform is required that connects all the stakeholders. We build in a workflow so that the information goes to the right stakeholder in business logic." FarEye has started working with General Motors in the US where it helps them fulfil after sales parts in the dealer network.
FarEye offers 100% visibility across all stages of movements for nearly 2 lac shipments annually. The results of the implementation include 32 percent reduction in loading, transit and unloading time, 57 percent reduction in pilferage of over $1 million worth theft.
Being just-in-time
Cost is a concern in just-in-time(JIT) operations as it is vital to ensure that liquidity is available during transaction time.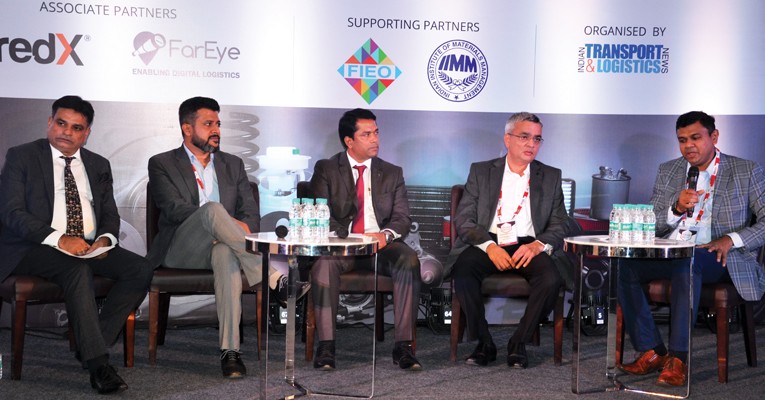 (L-R): Pradeep Srivastav, Senior Vice President, SpiceJet; Prasanna Madhyasta, Head - Enterprise Business, KredX; Manjunath SR, Associate Director, Industrial supply chain consulting, JLL India; Nandan Borgalkar, Director & Head - Express Division, MRC Logistics; Amit Borkar, GM, SCM, A Raymond Fasteners India
Prasanna Madhyasta, Head - Enterprise Business, KredX, said, "World's expert in just in time automobile company which is in India, is one of our clients and 15-20 vendors are using our services where we give them daily liquidity. I look at cash flow based risk mitigation rather than the balance sheet, technology helps me establish the genuineness at the transaction level."
Air freight is cited as the friend in need during emergencies and automotive holds a big chunk of just-in-time business in air freight. Pradeep Srivastav, senior vice president- cargo sales, SpiceJet, said, "We are here to address the just-in-time requirements of automotive industry and give the best air logistics solution to the country. SpiceXpress, the dedicated cargo service of SpiceJet, plans to add 22 freighters in future. Air logistics has a great opportunity in the B2B and B2C sectors." SpiceJet is also in talks with the Department of Commerce, Government of India, to create more infrastructures in B and C class cities.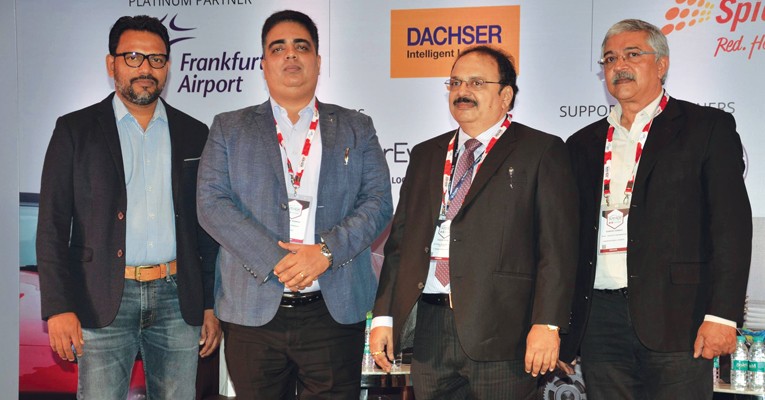 (L-R): Reji John, Editor, ITLN; Sanjeev Sharma, GM, SpiceJet; Tarun Goyal, national head supply chain, V-Trans India ltd; Ramesh Venkat, head -industry partnerships and new initiatives, Logistics Sector Skill Council
The panellists touched upon JIT's role in containing high operating costs, in addition to managing long-term growth and short-term volatility in the automobile sector. Nandan Borgalkar, Director & Head- Express division, MRC Logistics, said, "As far as JIT concept is concerned related to the automobile industry, we need to carve out certainty out of uncertainty by using forecasting tools. It could be demand driven or supply driven forecasting. I have been associated with one of the automobile customers for whom I had deployed many resources. They did not anticipate that the automobile segment will witness a slump in October and November; and said that demand will pick up in January. The forecast should be communicated to all stakeholders so that they can take actions accordingly."
Regulations and policy support
During the panel discussion on the need for policies and regulations, Umesh Shinde, GM-commercial, Shilpa Machinery addressed the impact of GST. He said, "Initially, Tier 2 and tier 3 automotive suppliers faced challenges with GST. We faced issues with implementing this change in ERP. Eventually, GST made life easy."
Moreover, regulations and enhanced standards are for not only establishing trust amongst supply chain stakeholders but also between government authorities and businesses, which will eventually reduce costs. Rajesh Ramarao, Deputy Commissioner, Pune Customs, suggested, "To reduce suspicion towards the logistics community, customs is pushing for a three-pronged approach, which includes AEO programme, international collaboration with other customs authorities, bringing all agencies under one umbrella to work through a single window, among others."
Emerging modes of transport
In India, the road is the preferred and dominant mode of transport for goods. Inland Waterways is cheaper, however, it only constitutes eight percent of the total cargo moved in India. The automotive segment took the lead when a big consignment of Hyundai cars was moved from Chennai Port to Pipavav through coastal waterways. However, it was not viable for the auto industry to continue with inland waterways. "It is important for Inland Waterways Authority of India to establish reliability by building infrastructure like jetties, and start scheduled vessels between two Indian cities," said Gandhi.
Rail is also emerging as the preferred mode and the Indian Railways (IR) has made several changes in its car-carriage policies. IR has opened up container depots for parking vehicles and is now exploring the opportunity to develop auto terminals. In addition, it has ordered 20 car carrier rakes.
The event concluded that as the multimodal infrastructure for automotive logistics is seeing an upgrade, there is a need for technology, collaborative decision making, policy adherence, tariff reduction, and change in mindset that shall drive benefits for all the stakeholders. AUTO SCM Summit 2018 saw support from Dachser India, SpiceJet, Indospace and KredX. In addition, Federation of Indian Export Organisations (FIEO) and Indian Institute of Materials Management also partnered the event.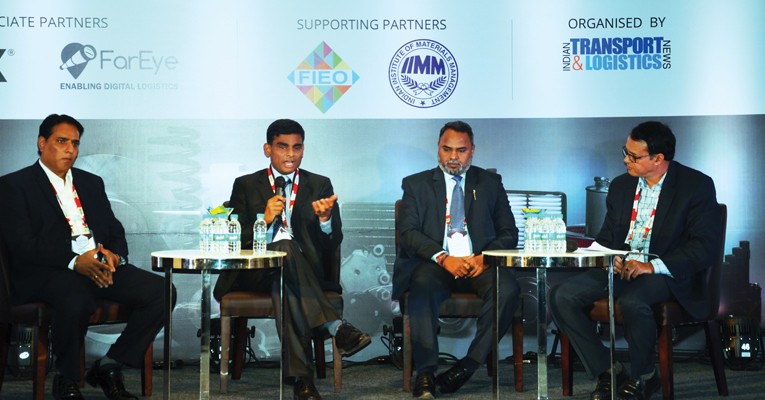 (L-R): Phani Krishna, DSV- Global transport and Logistics; Rajesh Ramarao, Deputy Commisioner, Pune customs; Umesh Shinde, GM, Shilpa Machinery; Rakesh Pathak, Prof. Supply Chain & Logistics Management