FROM MAGAZINE: Auto SCM Summit 2017 focusses on agile supply chain in the digital age
Industry 4.0 is the next big opportunity for Indian automotive industry to re-invent itself in terms of processes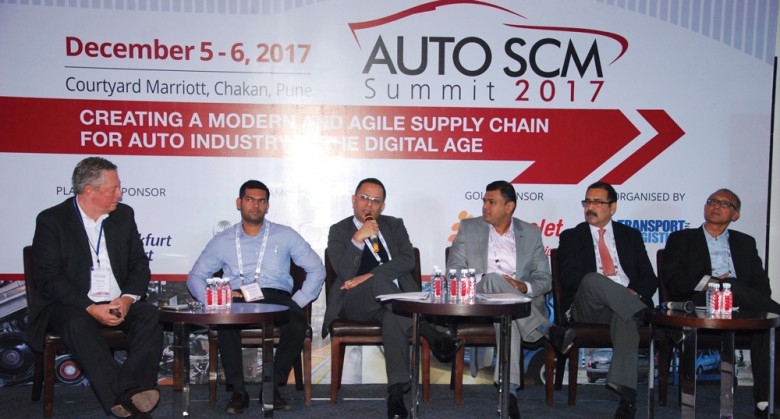 Industry 4.0 is the next big opportunity for Indian automotive industry to re-invent itself in terms of processes, technologies and value chain to deliver on Government's 'Make in India' initiative. Accounting for 7.1 percent of country's GDP, the Indian auto industry is one of the largest in the world. With a series of initiatives, infrastructure development and policy framework by the government to boost the automotive sector, Auto SCM Summit 2017 became a perfect platform for industry stakeholders to discuss and debate on government's initiatives and policies.
Rashmi Pradhan

India is a prominent auto exporter and has strong export growth expectations in the near future. According to Society of Indian Automobile Manufacturers (SIAM) report, the industry produced a total 17,097,096 vehicles including passenger and commercial vehicles, three-wheelers, two-wheelers and quadricycle in April-October 2017 as against 15,811,071 in April-October 2016, registering a growth of 8.13 percent over the same period last year.
The second edition of Auto SCM Summit organised by Indian Transport & Logistics News (ITLN) was held at Courtyard Marriott Chakan, Pune last month. The two-day event themed on 'Creating a modern and agile supply chain for auto industry in the digital age', brought together supply chain managers of automotive manufacturers, logistics service providers, airports and airline operators discussing ideas and sharing best practices to mutual benefits. Auto SCM Summit played a perfect platform to network with the right set of business associates. The key sponsors for the event were Frankfurt Airport, Saudia Cargo and SpiceJet. Federation of Indian Export Organisations (FIEO) also extended their support to the event.
Making an opening remark Roland Weil, vice president, sales, Cargo, Fraport AG, said, "We all know that air freight consists of a small portion of shipments coming from automotive supply chain and when it comes to air shipment it is time and cost sensitive. In the next five years, we would still like to be the largest air cargo gateway in Europe to the world. Our aim is to carry 3.2 million tonnes of cargo at airport, 2.2 million by air and another million by road this year."
Weil moderated the business session on 'Creating a modern and agile supply chain for auto industry in the digital age' with panel members including K Shubhendra, deputy commissioner, Pune Customs; Keku Bomi Gazder, CEO, AAI Cargo Logistics and Allied Services; Amit Borkar, GM, SCM, ARaymond Fasteners India; Vikram Vohra, regional director - Asia Pacific, Saudia Cargo; and Supratim Ganguly, business head, APM Terminals India.
The session delved upon topics like how vehicle manufacturers are operating more flexible production techniques with smarter supply chains and how sophisticated demand planning, variable cost structures and better integration with suppliers is making the automotive supply chain easier to manage. The panel members also spoke on how intelligent forecasting and inventory management are not just improving efficiency but also driving a seamless supply chain. The session also discussed on the role of ports, airports in enhancing the logistics value chain for the automotive industry.
Highlighting the scenario Indian airports, Gazder said, "By 2020 Indian aviation sector is poised to be number 3 in the world. Pune airport stands at number 4 in handling total cargo after Chennai, Ahmedabad and Kolkata. We have an international cargo terminal in Pune and will come up with a new Integrated Cargo Terminal in Pune in the next 36 months. This will augment the capacity and make the facility future ready."
Shubhendra has extended support and invited suggestions from the industry. He informed that in the next six months, the entire system will be full-fledged digital. "We have started international cargo shipment in Pune and soon will start transshipment cargo from Pune Airport," he added.
"For us the key is to improve data efficiency and quality. This will result in efficiency in operations. However, infrastructure bottlenecks are creating shipment problems," stated Vohra. Meanwhile Borkar stated, "We heavily invest in training and on better forecast and upstream and downstream of supply chain. We are moving to forecasting techniques. We focus on agile supply chain and the new terminology that is making a buzz in the industry is 'Leagile' (lean + agile) supply chain. Also, we need to make careful decision on where to mechanise and where to automate."
The two-event also had a session on 'Enhancing efficiency for in-factory (inbound) logistics through technology adaptation', which was moderated by Rakesh Pathak, Professor of Supply Chain & Logistics Management, International Institute of Management Studies, Pune. Among the panelist were Mohan Raju, Chief Strategy Officer, India & Emerging Markets, Azuga; Sudhir Gurtoo, Managing Director, Leadec India and Amit Borkar, GM, SCM, ARaymond Fasteners India. The panel discussed on how will the usage of analytics help drive a smarter automotive supply chain; driving Industry 4.0 smart approach towards inbound logistics and understanding the opportunities that digital supply chains enable. Making a presentation on 'Changing landscape in automotive in-plant logistics' Gurtoo pointed out that in future logistics will be fully automated. "Advanced robotics, Internet of Things (IoT), autonomous transportation, big data, 3D printing etc. will be few of the game changers. Drones will be used in the plants for faster material supply. As a new business model, there could be decrease of labour in logistics and use of Automated Guided Vehicles (AGVs) for logistics and cleaning services," he added.