Astral's first freighter from India carries 20T vaccines Mumbai-Yemen
April 20, 2021: The Kenya-based cargo-only carrier Astral Aviation today at 10.20 am IST operated its first cargo flight inside Indian airspace by uplifting 19.5 tonnes humanitarian cargo of vaccines on its Boeing 727 narrow-body freighter from Mumbai International Airport in India to Sanaa International Airport in Yemen via Djibouti-Ambouli Intern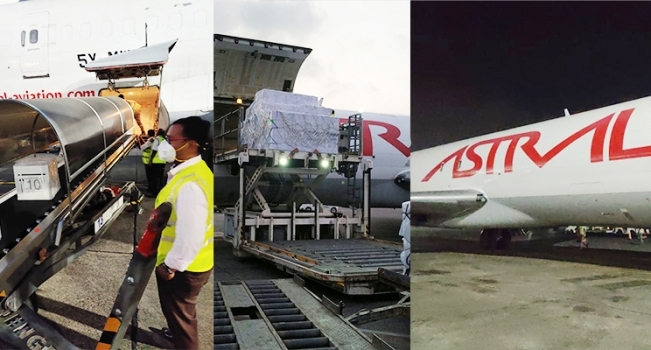 April 20, 2021: The Kenya-based cargo-only carrier Astral Aviation today at 10.20 am IST operated its first cargo flight inside Indian airspace by uplifting 19.5 tonnes humanitarian cargo of vaccines on its Boeing 727 narrow-body freighter from Mumbai International Airport in India to Sanaa International Airport in Yemen via Djibouti-Ambouli International Airport.
Due to the ongoing conflict in the region, all humanitarian cargo flights going to Sanaa, (Yemen's capital city) have to make a security stop in Djibouti-Ambouli International Airport in Djibouti. The aircraft will also make a technical stop at Salalah International Airport in Oman before proceeding to Djibouti for a security check en route to its final destination Sanaa in Yemen.
Before this, the empty freighter aircraft from Jomo Kenyatta International Airport, Nairobi via Muscat landed in Mumbai on Sunday (April 18).
Sanjeev Gadhia, chief executive officer of Astral Aviation, said, "The Inaugural flight from Mumbai offers new opportunities for Astral's clients to move freight from India to Africa via Astral Aviation's Nairobi Hub."
He is also confident that Astral Aviation will be able to operate more charters from India in 2021 due to the high demand for medical cargo.
Also read: Astral Aviation among airlines joined UNICEF to prioritise Covid-19 vaccines
Serum Institute of India was the shipper and Kuehne+Nagel was the agent for the vaccine freight that was split into three shipments, while the consignees were UNICEF (United Nations Children's Fund) and Yemen's ministry of public health (MOPH) C/O UNICEF.
The shipment, which had 15.373 tonnes of DTP-HepB-Hib vaccines (Diphtheria, Tetanus, Pertussis, Hepatitis B and Haemophilus Influenza vaccine), 1.606 tonnes of Tetanus and diphtheria (Td) vaccines and 2.568 tonnes of Measles-Rubella (MR) vaccines, had a temperature requirement to be stored between 2 to 8 degree Celcius at all times including transit & storage.
The consignment for MOPH is specifically for Yemen's Expanded Programme on Immunization (EPI) that uses routine and specialized vaccination campaigns to protect children less than one year of age from life-threatening diseases, including diphtheria, cholera and polio.
Yemen is going through a multi-sided civil war that started in 2014. According to the United Nations, Yemen remains the worst humanitarian crisis in the world, with 20.7 million people – including 11.3 million children – in need of some form of humanitarian assistance and protection.
According to a March 2021 report of Save the Children, in last three years, children constituted a quarter of all reported civilian casualties. From 2018 to 2020, 2,341 children lost their lives in the conflict. "Millions of children at risk of death, injury, starvation, or disease as the world's worst famine in decades looms," says the report.
Astral has never operated any flights to and from India before which has always been served via its interline partners.
For instance, in February 2021, the carrier had signed a cargo Interline agreement with the Indian cargo carrier SpiceXpress to move general cargo, courier and pharmaceuticals, between India, Africa and the Middle East.
"Due to the lack of direct capacity and connectivity between India and Africa during the pandemic, Astral has received a number of requests for the transportation of Covid-19 vaccines and pharmaceuticals to and within Africa which are originating from Mumbai, Bangalore and Hyderabad. India is also Africa's third-largest trading partner, accounting for 6.4 percent of the continent's total trade at a value of $62.6 billion in 2017-18," Gadhia said.
And on a personal note, he added, "my ancestral roots are from Gujarat and it will be a matter of immense pride and honour, for me to provide an air-bridge from India to Africa."