Ashok Gajapathi Raju inaugurates new terminal at Hubballi airport
December 13, 2017: Civil aviation minister Ashok Gajapathi Raju recently inaugurated the upgraded terminal building at the Hubballi Airport. Ananth Kumar, Union Minister of Chemicals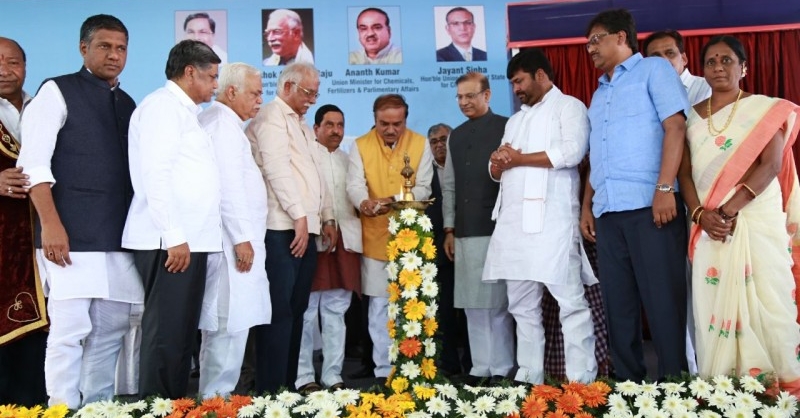 December 13, 2017: Civil aviation minister Ashok Gajapathi Raju recently inaugurated the upgraded terminal building at the Hubballi Airport.
Ananth Kumar, Union Minister of Chemicals and Fertilizers and Parliamentary Affairs; Jayant Sinha, Union Minister of State for Civil Aviation; RV Deshpande, Minister for Large & Medium Industries and Infrastructure Development, Government of Karnataka and other senior ministers also graced the occasion.
While inaugurating the upgraded terminal building, Gajapathi Raju said, "the development of Airport in the country is a joint effort of both the central and state government and all should come together to see that National Flag is flying high." He also informed that Hubballi Airport has been included in the UDAN scheme in the second phase. "The response from the airlines is very good. Number of airports like Mumbai, Chennai, Pune, Hyderabad, Kolhapur, Sholapur, Cochin, Goa, Tirupati, Kannur and Belagavi can be connected in the near future," he added.
Hubballi is one of the fastest growing cities in Karnataka and comprises many small, medium and large scale industries which contribute to the growth of the economy of the state. The Karnataka Chamber of Commerce and Industry is established at Hubballi to facilitate the growth of wide range of industries in Karnataka.
The new terminal building of Hubballi Airport is a centrally air-conditioned building, with an area of 3,600 square metre that has a capacity to handle 300 peak hour passengers at a time. It has all essential passenger-friendly amenities and conveniences like check-in counters, baggage conveyors, elevator, public address system, fire fighting & fire alarm system, hvac, flight information display system (FIDS), CCTV, baggage scanners and car parking etc.
Commenting on the Upgraded HubballiAirport, Shri Jayant Sinha, Union Minister of State for Civil Aviation said, "Since Hubballi is tagged for UDAN, it is expected that this airport will be connected shortly with many other airports."
The Upgraded Terminal Building has many green features like Standing seam Double Insulated Roofing system, provision of sky light system for energy savings, part LED lighting, Low heat gain glazing, energy efficient chillers, usage of fly ash bricks, sewage treatment plant, re-use of treated water for horticulture purposes, Variable Frequency Drive high capacity motors, all the green features aptly seconding the Government's initiatives towards 'Green India.'