Are airports ready for Covid-19 vaccine logistics?
Airports say they have made the necessary changes to their operations and are ready. Officials from Frankfurt, Hyderabad and Mumbai talk about their challenges and preparations in vaccine delivery.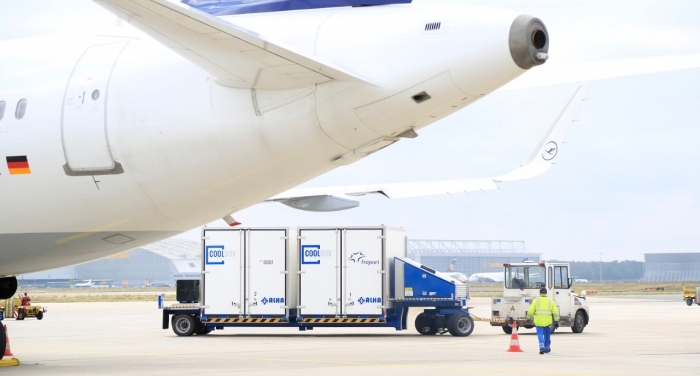 Different stakeholders in the air cargo industry are busy finding the right mix of operations to deal with the anticipated surge in Covid-19 vaccines. On the other hand, airports say they have made the necessary changes to their operations and are ready. Officials from Frankfurt, Hyderabad and Mumbai talk about their challenges and preparations in vaccine delivery
As the world slowly gets back to normalcy, the logistics and air cargo industry is busy making airtight processes to deliver the Covid-19 vaccine to everybody. The manufacturers are busy conducting final trials, which means that the delivery of the vaccine is still in the crystal ball. At the first-ever Global Vaccine Logistics Virtual Summit 2020 organised by the Indian Transport & Logistics News presented by Frankfurt Airport and supported by AirBridgeCargo Airlines and GMR Hyderabad Air Cargo, aviation and logistics experts discussed their levels of readiness for vaccine delivery. While every element in the supply chain is independently ready, there is a continuous emphasis on collaboration and the need for sharing information regularly.
Frankfurt to India
When talking about securing the supply chain, seamless logistics operations is very important but given the possible demand to be handled, the role of the airports is essential in the safe transportation of the vaccine. Around the world, the community is building a strong mechanism so that they are able to deliver the vaccines in a timely manner. Among the many, Frankfurt Airport has been at the top of their game and it is evident and their recent activity is proof. Earlier in November, Swissport Cargo Services Germany opened a new air cargo warehouse at the airport, and started operations there as they anticipate the increase in the freight volumes for standard cargo and pharmaceuticals in the next few months. A week prior, Fraport, the owner and operator of Frankfurt Airport, had launched FRA-OS, an innovative data exchange platform to help standardise, simplify and speed up cargo handling processes at the airport. Looking to cover every area and anticipating the surge in demand, they have expanded their fleet of temperature-controlled transport. Recently, FCS Frankfurt Cargo Services, a subsidiary of Worldwide Flight Services (WFS), and biggest cargo handler at the airport also received the EU Good Distribution Practice (GDP) certification for medical products for human use, soon after getting the IATA CEIV certification.
Talking about all the activity at the airport, Max Philipp Conrady, senior vice president cargo, Fraport AG, said, "When the demand for PPE came in we expected a surge in the vaccines and so established a working group as early as April, based on the existing groups in the air cargo community, on how to adapt to this upcoming challenge and we are now ready for it." Conrady's confidence is evident because he proudly says that in 2019, the airport handled almost 120,000 tonnes of vaccines, medications and other pharmaceutical goods, which proves that they can handle huge demand. However, he admits that there is still a need to look at the intense look at the processes. He adds, "It is important to look at every detail - landside and airside, export and import businesses and not to forget security, in terms of contingency plans in case a warehouse has been shut down due to Covid-19."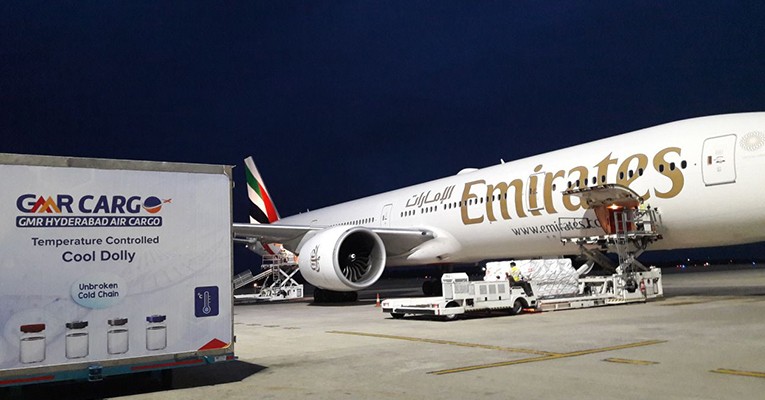 The GMR Hyderabad Air Cargo Terminal flags off its first temperature-sensitive shipment through its newly launched cool dolly.
Just like a ready Frankfurt Airport which is keeping the challenges in mind, closer to home, GMR Hyderabad International Airport is leaving no stone unturned. Being one of the biggest pharmaceutical hubs in India, the airport understands the herculean task ahead. Since pharmaceuticals is one of its major exports, they are experienced in transporting polio, measles, pentavalent vaccines and Hepatitis B vaccines. However, Saurabh Kumar, CEO, GMR Hyderabad Air Cargo says one of the biggest challenges is handling the volume of vaccine shipments. He explains that every terminal has its own specialised operations which along with a unique value-addition, becomes the challenge. So, while many are focusing on reducing the time between the factory and airport, the focus needs to be on the mandatory security, aircraft and packaging requirements.
Handling of the vaccines makes the task even more difficult because it also means that airports have to be ready to store and transport them without losing their potency. Kumar says that while maintaining the vaccine temperature is important, they also have tolerance limits and the air cargo community needs to also have solutions for it. However, there is an easier way to deal with it. "If you are able to focus on the kind of vaccine movement that will originate from our respective catchments and able to understand those requirements, uniquely, we'll be able to focus our resources in developing capacities in those relevant areas, and ensure that as a key component of logistics chain, we deliver our responsibility to transfer it from A location to B location," he adds. Kumar warns that there is also a need to be specific and smart than simply doubling or tripling capacities and later realise that the vaccines come in precooled boxes, which wouldn't need the designed capacity.
Hyderabad Airport has designed solutions at three levels. While the first one is at the time of handover, which is called typically acceptance point, the second is establishing a secondary storage point before it is put into a pallet, and the third is the tertiary storage point of when the pallet is ready, which is when it is either stored or have a cool dolly, and ensures that the pallet goes into the aircraft into the required temperature zone. Kumar explains, "These are the three areas that we are focussing, and depending on our catchment and assessment of the volumes that are going to be generated, we are increasing these capacities, multiple times, so that it addresses the relevant requirement. These are additional, scalable and flexible capacities, which can later be used for different temperature ranges as well."
The airport recently inducted their multi-unit load device, which can carry upto seven tonnes or two pallets, while having a dual power source and agile system that helps transport the pallet in two minutes than the usual 10-30 minute duration. "We see bulk of the movement happen very swiftly, so I think we can push off pallets into the aircraft positioning locations within five minutes. In case an aircraft gets parked in a farther location, we will use our cool dolly solution to transport it securely because typically before the flight lands, there is a cut off time and we need to keep the pallets ready," says Kumar. While the operations will be plenty, there will also be a need for manpower, so while the airport had allocated 30 per cent of the manpower to specialised operations, the workforce is now at 100 per cent.
Just like Saurabh Kumar is ready to handle the vaccine demand in Hyderabad, Tushar Jani, chairman, Cargo Service Center, is prepared for Mumbai Airport. He confidently says, "I can handle eight 747 aircrafts of the vaccine daily. Bring the 747 and we will load it, and even if the vaccine is brought from the factory, we will load it. The vaccine can be stored under temperature control at our terminal, the size has also become double to 6,000 sqm and our people have also been trained. We are also currently handling 50 tonnes of vaccine every day." Jani adds that they are already in the process of getting their compliances, which will be done by the end of December and by January, they will be ready to handle the vaccine cargo on a real-time basis. "As far as Mumbai Airport is concerned, let me declare that my infrastructure is ready. I've got a cool dolly, the mapping has been done, the temperature control is available online on a real time basis anywhere in the world," he adds.
The business of containers
Containers are an important part of the supply chain and all the more at the airport to maintain required temperatures while loading and unloading. Anticipating the demand, SkyCell has opened up service centres in Italy, US and Korea in the last six months. The expansion was a result of the increased demand for temperature-controlled, IoT-tracked containers from pharmaceutical shippers. Marrie Groeneveld, chief commercial officer, SkyCell talking about their readiness for the Covid-19 vaccine distribution says, "We have increased our hybrid container production significantly, while also looking at and planning of containers at strategic locations which is where the collaboration with airlines is important, and that is where we are setting up the master lease agreements. We have also opened up the opportunity for our clients to secure capacity with us. Based on that they think of three volume scenarios and then we put it into our production planning and use that to get prepared for the demand."
With the delivery of the vaccines around the corner, end-to-end thermal shipping solutions provider CSafe Global fit perfectly into the scheme of things as they particularly specialise in pharmaceutical deliveries. Their experts have been busy meeting major airlines and freight forwarders to understand their demands to deliver the vaccines in the future, however, Tom Weir, chief operating officer, CSafe Global, says it is difficult to put a particular plan to it. "There's still a lot of unknowns in terms of what products will be released, where they will be released, what the temperature conditions will be and where the vaccine will be produced. So, you have to maintain that collaboration and frequent communication so that you're prepared and in terms of how we prepare, it's making sure we have the infrastructure in place globally to support the coming demand," he says. Weir adds that their mission is to make sure the product is in a safe container package and just what the patient needed. Being very flexible, they also have different lease options for their customers depending on the duration, how many and how often they use the containers because while some need for a few years, others need it only for a few days.
The company has developed a dry solution that helps manage dry ice conditions and the box is currently qualified and being tested by a very large pharmaceutical company that is currently involved with Covid-19 vaccines. The box can hold a product for over 240 hours without any drop in temperature. Additionally, while they produce the product in the US and the EU, they have also partnered with a company to carry out product assembly around the world, as and when the demand arises for it.
With CSafe Global securing their internal process to meet the rising demand, Envirotainer is not far behind. In an attempt to help their customers, the company in October, announced that they would provide free shipment reports within 48 hours of delivery to help improve transparency. Dealing in providing temperature-controlled solutions, they have been involved in various task forces, airport communities, sitting directly with the manufacturers, logistics and transportation providers and multimodal carriers and providers who will help them with slot management on the backend so that they have enough capacity. Stephen Maietta, head of market development, Envirotainer, said, "It is a full-time job ensuring that slot management is managed, effectively and efficiently day in and day out. We have enough bandwidth with our partners to make sure that there are enough units available so that they are positioned at the right place at the right time."
Given the logistical complexities of the vaccine transportation, Envirotainer has taken into account the challenges faced by their stakeholders and now removed surcharges. Maietta adds, "We will remove all repositioning surcharges out of Asia, America, Europe and Middle East Africa, and the Americas because we understand how that is being looked at across budgets and the overall comparison with all the various options that are out there."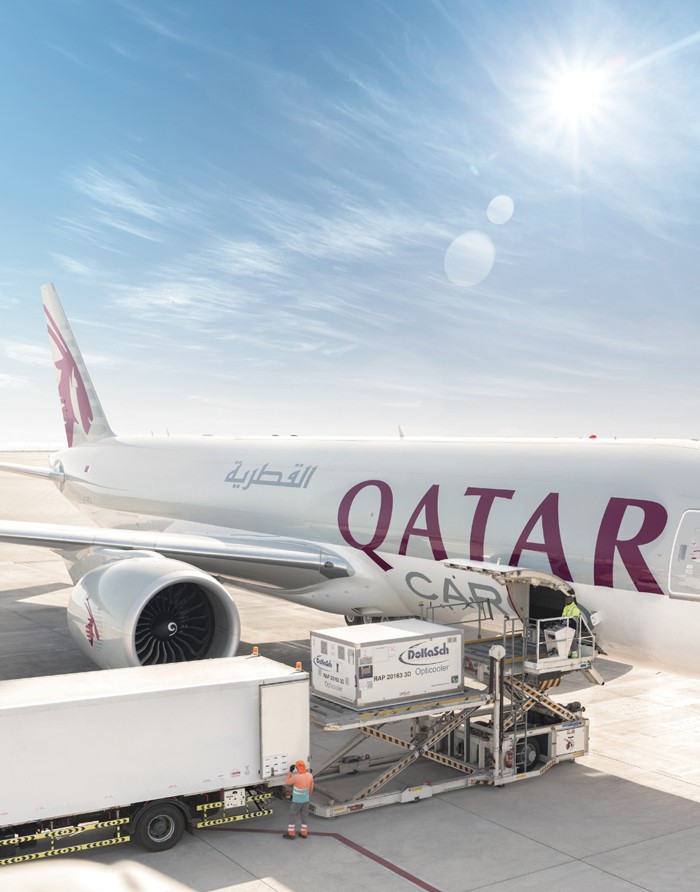 A temperature-controlled DoKaSch container gets loaded into the lower deck of a Qatar Airways Cargo freighter.
While Envirotainer has made changes, DoKaSch Temperature Solutions is presently internally working on their processes just like CSafe Global to be able to provide the best solutions at the right time. They are already present in the US and Europe but have now also expanded their presence at airports in India. Andreas Seitz, managing director, DoKaSch Temperature Solutions, says the key focus is on efficient uses and shortest possible turnaround time for the containers, rather than increasing their number especially because the duration of the demand isn't known yet. Seitz says, "Collaboration is really key and we have standard procedures but if you want to really speed it up, it is important to concentrate on the turnaround time. If the containers are used more efficiently, then double or triple the amount of vaccines can be shipped out." He says to improve their turnaround time at DoKaSch, they have improved their internal procedures for repairs and maintenance, so it can be released soon for the next trip. Groeneveld agreeing with Seitz, says that while SkyCell has increased the production of containers according to their clients' needs, the capacity of the fleet can only be determined based on how many turns it can make. It is especially important for Skycell because their hybrid containers aren't designed as ULD but as packaging material for a door-to-door solution, which has a longer than three day protection duration and autonomous runtime. So, they need to work with airlines that are able to organise and commit to a faster turnaround time because that will help determine the end capacity.
It is clear that as airports get ready to handle the volume of Covid-19 vaccine shipments, temperature-controlled container solution providers also have their foot on the accelerator to be ready for delivery. With the future yet uncertain, all the stakeholders have a huge task ahead but they have faith in their processes and are ready to take it head on and do their best not only for profit but also to help the vaccine reach every last individual in the world.
This article was originally published in Indian Transport & Logistics News' November - December 2020 issue.