FROM MAGAZINE : Aravind Melligeri speaks on manufacturing challenges in Indian aerospace sector
Indian government's ambitious plan to make India as an aircraft manufacturing hub cannot take-off till initiatives like SEZ is viewed as a real estate business, opines Aravind Melligeri, chairman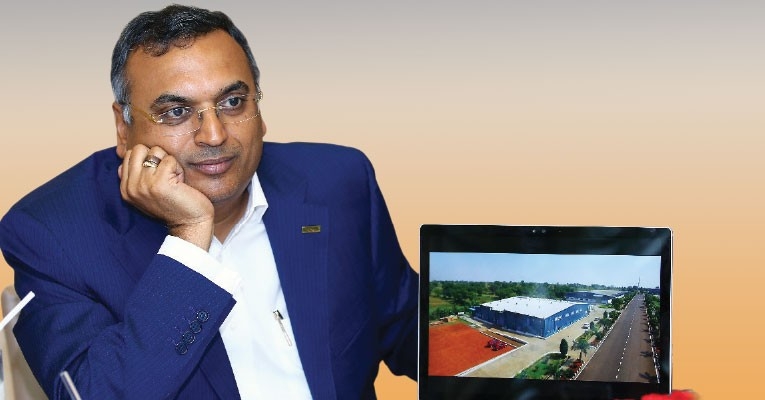 Indian government's ambitious plan to make India as an aircraft manufacturing hub cannot take-off till initiatives like SEZ is viewed as a real estate business, opines Aravind Melligeri, chairman & CEO, Aequs. Speaking to Shalini Nair & Shreya Bhattacharya on creating ecosystems of efficiency in a SEZ, he points out that to make India a focal point of manufacturing, government has to support technologies from aerospace perspective and let go of the political intricacies that are barring aerospace industry's development.
How soon can India reduce the import dependency for raw materials required for aerospace manufacturing?
Much sooner than the oil (laughs). The point is that these are not low hanging fruits; they are indeed a painful process. If you have to focus on doing an aerospace capable machine manufacturing it means that the volumes are going to be much lower than the automotive machines. So your investments will be much higher. Certainly, you will get paid a little more but it is still a commodity as somebody else outside the country has an established base, with economies of scale and we are competing with them. It is like Airbus competing with Bombardier on C Series. Think about that!
What are the raw materials you import?
We import raw materials like aluminum, steel and titanium from Europe, US and Russia. Titanium is from Russia, predominantly from VSMPO-AVISMA Corporation and some from US and Europe.
In aerospace, each of them has their own nuances with respect to logistics perspective. Today in aerospace logistics in India, we have to import almost all the materials and equipment. Technically speaking, there is no such part which is domestically manufactured in our country. Therefore, we import 100 percent of raw materials, machines, cutting tools, cutting oil, fittings, whereas only the man power is what we are leveraging upon. Hence, we are basically doing value add.
In terms of raw material, there is not a single Indian source which can deliver to a commercial aerospace industry. We have a large amount of machine manufacturers in the country only focused on automotive and capability perspective, but they cannot deliver what an aerospace industry need. So, we import 100 percent of it.
While procuring raw materials, what kind of inefficiencies do you see in the supply chain?
I feel the whole aerospace industry is full of inefficiencies from supply chain logistics' perspective. It is most inefficient and challenging. As mentioned earlier, it comes down to capabilities again and all the political compulsions. For example, let us consider A787 how its parts come into it. The wings are made in Japan, fuselage made in Alenia Aeronautica, landing gears come from Safran, etc. Then the detail parts go to the next level, which comes from all over the world. Later on, the detail parts come from Aequs in Belagavi. Some of the mechanism comes from the US. Then they put everything together and send it which gets clubbed in Wichita. Further it goes as a fuselage piece, where the front fuselage gets attached to the centre fuselage. So our industry works with this much of complexity.
Tell us how import duty has been affecting this industry?
Historically, this industry has worked without much import duty. Today, the aluminium tariff by Donald Trump has especially thrown ban against Russia, where Rousseau Metal is a major player. This act has put down the whole industry into some disarray because Rousseau was a significant base metal supplier to most of the industries due to its huge capacity. So how does it impact is not known yet. Who is going to pay the duty - the customer or the supplier; who is going to calculate; who is going to collect; whether the shipment on the freight duty is put in or not, those discussions are still happening. Suppose, we have 7,000 tonnes on the boat on the way to enter US, so is the duty going to be on that? Customers deny on paying the duty. The clarification on duty is yet to come whether it is on alloy, base metals or aluminum. Overall, aerospace industry supply chain logistics is pretty complicated and it has a huge opportunity to simplify.
The reason for us to establish a SEZ is to minimise the logistics cost. In India, we have additional level of complexities because of immature transportation systems, road accompanied by risks. If we are going to do a $10,000 part and sending it to another company for surface treatment, we are not sure whether it will come back by road - as air logistics demand in India is less. Therefore, we wanted to avoid the issue of transportation. No one supplier can manufacture aircraft completely. It has to be taken for surface treatment, machined, heat treated again - it goes back and forth. In US, Fedex does it day-in and day out. The idea of Aequs SEZ is to provide our manufacturers a plug-n-play facility. For them, they will invest on revenue generating assets like machines, tools, etc. not the land or building. By bringing different companies like Sandvik, AMS, Quest, Apollo, Unique Tooling Solutions, UFI Filters, API, Walter, Squad, etc., to the site, I don't need to maintain additional inventory, they deliver me what I need in the beginning of the shift itself.
What is the Indian government doing to ensure ease of doing business?
We chose the place because it had best roads. Under the Golden Quadrilateral project, this six-lane Bengaluru-Pune-Mumbai NH4 is equidistant from Bengaluru, Hyderabad & Mumbai. It has good connectivity by land, sea and air which gives impetus to service industries. Anything else comes up, it is our responsibility.
The Karnataka government has tried to do a SEZ in Bangalore but the challenge is that it is not a real estate business; it is to bring the vertical integration through partnerships. Government cannot be focused on this part. If I were just a SEZ developer, I would be happy to build one after other. But we are a manufacturer and for us ecosystem is important. DIAL at Delhi and GMR at Hyderabad Airport are trying to build SEZ but they are not able to get MRO players. There are few players in Bangalore SEZ, where there is no cohesive movement of materials between them, and none of them are vertically integrated. They are just independently dropping the materials because there is land available and they want to be in the city.
What are the standards you meet for aerospace manufacturing?
AS9100 is the basic fundamental certification standard. Then we have customer approvals for facilities and each of the part we make. Today, most probably we make 3,000 different parts and each process has to be approved by Airbus, Boeing or someone else. We have certification like National Aerospace and Defense Contractors Accreditation Program (NADCAP) for surface, heat, chemical treatment, etc. It is a body put together by all the original equipment manufacturers (OEMs).
As a manufacturer, how are you leveraging artificial intelligence (AI) or internet of things (IoT)?
IoT is something which we are trying to integrate in terms of machine data collection. Like how much time machine is idle versus cutting, which part it is running, how much it is on, which programme it is running. Thus, this data is used to optimise the programme further. AI is the next level of taking the data and analysing further to see how improvement happens. We can technically apply AI to find out the defects we had in the past, commonality in those defects and the root cause of it. Today it is a manual lengthy process, as and when a rejection happens we go through the quality clinic and find out the issues - did it happen due to man, machine or process? We don't use much of AI. It is mainly used for predictive failures and for us it is defined.
Civil Aviation Minister Suresh Prabhu recently encouraged the manufacturing of aircraft and aviation equipment under 'Make in India' initiative. How are you trying to tap this opportunity?
'Make in India' is making everybody aligned to a vision. We are doing whatever we need to do whether government gives us opportunities or not. The government gives manufacturing export incentives of seven percent to service industry versus two percent for aerospace industry. If 'Make in India' is the name - why export incentive for our industry is less? Even plastic export gets seven percent. When did plastic export become core from India?
If government wants to get involved with our industry, they have to specifically target the technologies. They must support the technologies which must be aerospace industry specific. If we need to get into certain systems level manufacturing, it takes long term investment. There needs to be a fund which can be tapped from and invested with a long term return, not a short run or a loan of 10-15 percent. The cost of capital needs to be competitive. We are not competing within India, we are competing globally. Our cost of capital is much higher than our competitors cost outside India. We import everything in dollars. Even our access to capital is very poor. We go to banks here; they need hundred collaterals before providing a loan. We somehow bring in equity and manage our business. The worst sufferers are SMEs. Banks need collateral even for working capital. If this is the scenario, how government can claim that they are providing manufacturing support?
We had a 'Champions of Change' event with the government, we communicated, gave proposal to them but still it is not executed since a year. There is intent but unfortunately many top priorities like elections, etc. throw this idea to backstage. We can't sit and complain - we will run our business and not wait for the government to figure out what we need to do.
We are doing 'Make in India' before the government brought this concept. We invested $100 million on the ground and proved that this is a doable concept. My competition is not with India; I'm competing with China, Malaysia, the Middle East, US, Europe, who are willing to throw any amount of money to aerospace manufacturers to show up and start set up. If you want to do in Saudi Arabia, you get a zero interest capital support. If we talk about cheap labour in India, end of the day every industry is going towards automation. Technology is playing in. Going ahead, I will consider investing in machines rather than man power so that inefficiencies are eliminated.
As you have been located near your customers and are having best road for logistics, there are still supply chain issues being faced. What are the other modes of transport you feel should be developed?
Absolutely, there are still supply chain issues. We wish for our consumer business, Goa port is developed and container shipment happens.
Four years back, in conversation with a road transporter on air cargo logistics cost, he revealed some shocking numbers as how much it takes in India to transport from one corner to the other. Air transport takes more than 20 times cost compared to other transport modes.
Today, we do routine air lifting for international. We produce parts in Belagavi and 48 hours later they are in Toulose. In aerospace industry we are looking at a material which is a $10,000 part, imagine it is sitting on the ship for three weeks to reach there. Even the customer pays the money after 90 days of receiving the part. This is the economies of scale we actually work in. We do production parts going into assembling line routinely because its economics make sense in doing so. Every day we send few parts through Belgavi-Bengaluru road for treatments although we have our own JV. To avoid any failure, we keep two suppliers, if any last minute risk comes in. By doing this we are mitigating risk, incase anything happens on site, we have somewhere to go. The truck carries the part in the evening and by morning it comes back. In this case, we can run B200 freighters which will reach within an hour. But I don't gain anything as it takes two hours to reach my supplier because internal traffic is what I can't control. This is one of the problems with air cargo in India because the internal logistics is very painful.
What is the biggest challenge in the air cargo industry?
In the air cargo industry, if you bifurcate between the commercial airlines as belly vs dedicated freighters. The biggest competition is bellies. The question is how you manage the balance between the two. This is delta revenue for one and a core business for other. Our delivery goes to France through DHL from Bengaluru every day. Earlier, we used to run through bellies now we have DHL freighters.
The painful process is when our consumer products get delayed, we have to airlift them. One of the biggest airlifting we did was 40 tonnes castings for power generation product from Delhi to Naritta by a B747F of Air Cathay. My set of concern is whether India is a suitable country to have air freight for consumer products.
How bullish are you on defence procurement?
We definitely know there is a need. I cannot time it. Defence parts are manufactured as per the need of the hour; it is not manufactured in advance. We will not invest for defence but we have capability and capacity to support the need.
Is there a right balance in between demand and supply in aerospace manufacturing?
If OEMs are demanding, we will increase the rate of production. I cannot alone increase, everybody has to do it. There are three million parts in an aircraft and we make only few thousands of it. Earlier, Airbus used to manufacture 25-30 per month ten years ago, today it has gone up to 60 per month, that basically is a demand and they want to go further higher. Boeing and Airbus are sitting with a 7 and 9 year order back log, respectively. The question is if we increase the rate of production we would have gone faster, but later on we have to bring it down, which means idle capacity resulting in high cost of capital. Who is going to pay for it? Unless we have ten-year visibility of increased production rate, we will not commit.
All the parts manufactured are high value cargo, what kind of safety measures you follow during transportation?
The biggest complaint we have received is visual defect, which comes out during transportation like scratches, metal-to-metal touching, etc. A single scratch leads to rejection. We have put accelerometers on the shipments to see whether it has been dropped. The dropping issue mostly happens in sea cargo than air. When more of packaging is done; customers complain that it takes a lot of time to unpack which leads to wastage of time. We have to address both the issues.
You were mentioning that Goa facility will reduce import cost and add value to your business. What is your capacity expansion plan in Belagavi?
Presently, Belagavi SEZ has a capacity of 1 million machining hours per year and our goal is touch 4 million by 2022. We are more focused in Goa for defence manufacturing facility. We have worked upon certain partnerships. As of now, we don't have any possession of land yet. The government has approved but not allotted to us. Due to CM Parrikar's medical condition, the move has been slowed down. We have identified Goa as it will be having an international airport and this facility is right across the airport. It is a domestic tariff area not an SEZ. As said, defence parts will be made as and when situation arises. It is just we are making a future provision for the same. Belagavi may also manufacture certain defence-related components, assembling and testing. We want to leverage the capacity we have as a company. We have to decide on that yet as defence orders cannot be done from a SEZ due to few regulatory issues.
Tell us about your partnership with Toulose-based Latécoère Groupe.
Initial production commenced from an existing 1,300 square metre unit from September 1. Later on, it will construct a brand new 4,000 square metre facility by June 2019. They have two businesses: wire harness and door making. They make doors for A320 and B787. They are the largest door makers in the world.