Air Cargo India 2018 pumps up India's air cargo prospects
February 21, 2018: Excitement among the air cargo industry stakeholders reached a new level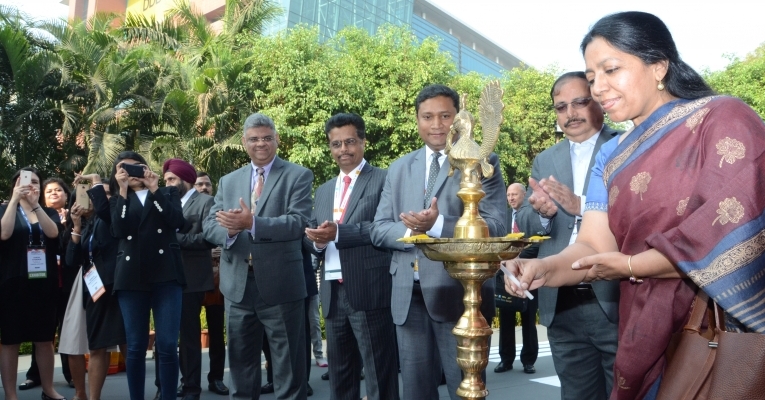 February 21, 2018: Excitement among the air cargo industry stakeholders reached a new level as the 7th edition of Air Cargo India, kicked off today. The three-day event, dubbed as the biggest congregation of the global air cargo supply chain, organised by The STAT Media Group, is currently taking place at Grand Hyatt, Mumbai from February 20-22.
The event, themed "Indian air cargo: A revolution enhancing global trade" aims to showcase India's potential in the global scenario and provide a platform for the Indian air cargo industry to learn from the best global air logistics leaders and network with them.
Vandana Agarwal, Economic Advisor, Ministry of Civil Aviation, Government of India inaugurated the event. RK Patra, Editor-In-Chief, STAT Media Group; Manoj Singh, Senior Vice President and Head – Cargo, Mumbai International Airport – GVK, Dheeraj Kohli, Vice President and Global Head for Travel and Transportation, Unisys and Ashok Rajan, Senior Vice President - Global Business Head - Airline Cargo Services, IBS Software Services were also in attendance.
Delivering the keynote address, Agarwal impressed upon that the ministry's goal to bring down logistics costs to 9 per cent of GDP by 2022. "The ministry is also working towards improving India's ranking in World Bank's Logistics Performance Index (LPI) from 35 to 15 by 2020. We have earmarked Rs 88,000 crore for capital projects at airport covering air cargo facilities also over the next five years," she said.
Welcoming the delegates to the event, RK Patra, Group Editor-in Chief, STAT Media Group spoke about the revolutionary changes that the Indian aviation industry is going through. "The air freight landscape has experienced some dramatic shifts in recent years. Digitization has become more prominent in the air cargo industry. As in most industries, big data obtained in real time, from real events, combined with flexible management, is helping air carriers take a more efficient approach to traffic planning and infrastructure," he said.
"Our conference sessions are themed around topics that are most talked-about and address the pressing needs of the industry. We have put together a compelling agenda and pooled the best resources of the global air freight industry to discuss, debate and share the best ideas and trends that shape the future of air cargo industry," Patra added.
The first panel discussion had industry stalwarts discuss on charting a new flight path for Indian air cargo as a global destination. Those on the panel included the likes of Glyn Hughes, Global Head of Cargo, IATA; Alexis von Hoensbroech, Member, Executive Board and CCO, Lufthansa Cargo; Russi Batliwala, CEO, Chapman Freeborn Air Chartering; Keku Gazder, CEO, AAI Cargo Logistics and Allied Services; Dheeraj Kohli, VP & Global Head for Travel and Transportation, Unisys; Abhay Pathak, Executive Director, Cargo, Air India; Manoj Singh, Senior Vice President & Head - Cargo, Mumbai International Airport and Hemanth DP, COO, Aerocommercial Cargo & Asia Pacific Flying School, GMR Airport.
Hughes, who moderated the discussion, put forth an important question: Is India ready for consistent growth in air cargo? All the participants were in agreement that while it is not fully ready for sustained growth, it is on its way to reach there soon.
"It is a stated objective of the government, airports and some of the airlines, to create a hub in India. We rank the seventh largest country, one of the top economies and the only country of this size that does not have a logistics hub," said Hemanth DP, raising an interesting point.
"We have nearly 600 aircraft doing close to 2000 flights a day. Indigo alone does 1000 flights. That is 2000 flights with a capacity of 3000 tonnes, which works to around 6-8k belly capacity per day connecting 40-50 airports in the country. 60 per cent of the domestic belly air cargo has an underload. If we use that, there's lot of potential. If there is lot of cargo to be moved, shippers will be more than happy to send it via air provided the price point is right," he reasoned.