Air cargo booking platform cargo.one raises $42 mn in Series B funding
December 17, 2020: The digital air cargo booking platform cargo.one has raised $42 million in Series B funding led by Bessemer Venture Partners who are joined by existing investors Index Ventures, Creandum, Point Nine, and Next47.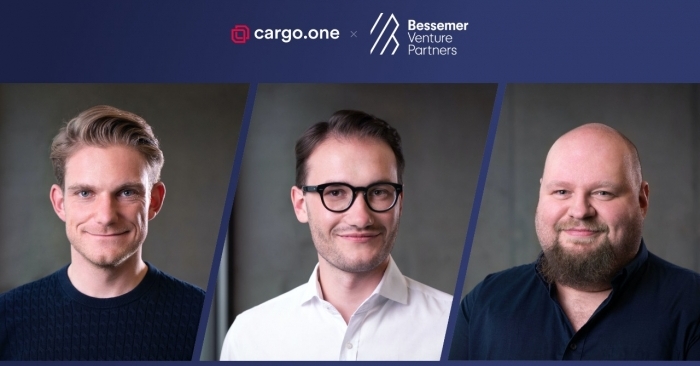 December 17, 2020: The digital air cargo booking platform cargo.one has raised $42 million in Series B funding led by Bessemer Venture Partners who are joined by existing investors Index Ventures, Creandum, Point Nine, and Next47.
The news comes just six months after an $18 million Series A funding round. Meanwhile, the platform recorded 700 percent bookings growth and 300 percent user base increase in 2020 compared to the previous year.
"cargo.one is focused on growth opportunities in North America, where airlines have been responding to surging demand for air cargo (Cargo Tonne Kilometres (CTK) are up 8.6 percent YoY) and benefiting from a solid performance of Asia - North America trade lanes - a relative bright spot for carriers in an otherwise challenging year, said the release.
Delta, American Airlines and United, for example, have all dramatically increased their cargo-only flights to offset declining passenger demand caused by global travel restrictions. Delta has been operating 124 cargo-only flights per week, American operated nearly 1,000 cargo-only flights in October alone, and United reported a 50 percent increase in the company's cargo business to $422 million in Q3 2020.
Founded three years ago by managing directors Oliver T. Neumann and Moritz Claussen alongside chief technology officer Mike Rötgers, cargo.one is building the global operating system for air cargo.
Today, the company's digital platform processes annualized volumes in Europe of more than 110,000 shipments and 45,000 tonnes with 15 airline partners including Lufthansa Cargo, Finnair Cargo, Etihad Cargo and All Nippon Airways Cargo.
In June 2020, the company had announced a technology integration the Indian air cargo tech company IBS Software so that freight forwarders on cargo.one platform can book capacities of airlines on iCargo sales platform of IBS.
Moritz Claussen, managing director, cargo.one, said "Between 2019 and 2020, we increased our user base by 300 percent with 2,000 freight-forwarding offices now using the platform in Europe to book real-time offers in the highly precarious market situation - in that time bookings have grown by more than 700 percent. To date, cargo.one has distributed more than 18 million offers to freight forwarders, serving 347 destinations around the world, and has delivered shipments to 122 countries."
Lufthansa Cargo had invested in the Berlin-based company in 2018 by acquiring a minority shareholding.
Peter Gerber, chairman and CEO of Lufthansa Cargo, said, "We are pleased to see cargo.one's continued rapid growth and look forward to leveraging their expansion into new markets like North America and Asia."
Michael Droesch, vice president at Bessemer Venture Partners, said, "cargo.one provides a fundamentally better way for freight forwarders and airlines to book freight, leading to rapidly growing adoption and bookings across the industry. The company has had a fast and successful start in Europe, and we are excited to support its expansion into North America, which represents a large and attractive market for cargo.one's differentiated platform."
Martin Mignot, Partner at Index Ventures, said, "When they launched cargo.one, Oliver, Moritz and Mike couldn't have anticipated how quickly it would become a critical infrastructure partner for airlines and freight forwarders around the world - and a lifeline for airlines during the pandemic. They have methodically and relentlessly continued to build the new software platform for air cargo, and we're excited to continue supporting them on that mission and their global expansion ambitions."
Oliver T. Neumann, managing director, cargo.one said, "Soon every freight forwarder in the world will be able to access cargo.one and benefit from the advantages of digital booking. We will use the funds raised to build on our success in Europe, onboard more airline partners, grow our user base of freight forwarders globally, and deepen the expansion into North America and Asia. And, as the global distribution of the vitally important Covid-19 vaccine ramps up, we are expanding our product offerings to make all pharma shipments bookable across our partner airlines as the first multi-airline platform to ever do so."
Furthermore, the company aims to continue develop tools that use data to let airlines offer more dynamic pricing, engage in better route planning and predict demand in volatile markets as well as adding more products for booking through 2021.