FROM MAGAZINE: Agile supply chain with faster clearances need of the hour for high tech industry
While India has scaled up 30 notches to enter the top 100 rankings on the World Bank's 'ease of doing business' index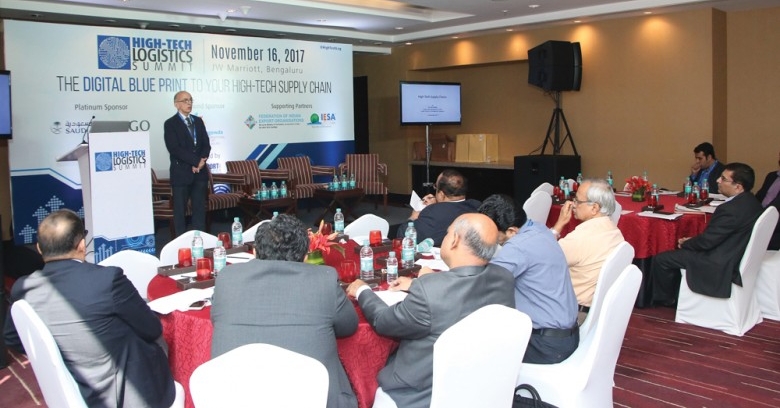 While India has scaled up 30 notches to enter the top 100 rankings on the World Bank's 'ease of doing business' index, there is a long way for the country to go to match up with its global peers in terms of faster processing time for customs clearance for imports/exports. This was the common voice among high-tech shippers present at the High Tech Logistics Summit held in Bengaluru.
The summit, organized by Indian Transport & Logistics News witnessed over 80 delegates comprising mostly high-tech shippers, apart from logistics service providers. The participants and speakers deliberate over the issues plaguing high tech logistics and the enablers for a digital supply chain.
The summit began with a keynote address by Dr Suresh DN, Chief Operating Officer, Supply Chain Management Centre, Indian Institute of Management, Bangalore who highlighted the key trends and challenges in high tech supply chains.
In his opening remarks, P Anjani Kumar, Commissioner of Customs, Airport & Air cargo informed that Bengaluru Airport has the country's lowest lead time with just three days for customs clearance. Keeping an open door policy, Kumar extended his support to the shippers by offering them to reach out to him directly for any issues and welcomed any suggestion or feedback from their end.
The first panel discussion focused on what it takes to build an agile supply chain. Topics relating to the implementation of GST and logistics infrastructure were also touched upon. The panelists included Suresh DN, chief operating officer, Supply Chain Management Centre, IIM-Bangalore; Pramod Sant, vice president – head of import and export, export control and customs, Siemens; Vikram Vohra, regional director-Asia Pacific, Saudia Cargo and Yuvaraj AR, additional general manager, CMS division, Bharat Electronics.
"While Bangalore has the fastest customs clearance airport in India with average clearance time of 2-3 days, we are far behind when it comes to urgent clearances when we compare global standards. Korea, for example, has a clearance time of 2 hours and in case of a normal clearance, it takes about 4-5 hours," said Sant.
According to Sant, while the government is taking good measures, India's rank in the trading across borders category which deals with imports/exports and supply chain in high tech, has deteriorated from 143 to 146. "At a time when we are celebrating all the good things that are being done, this rank has slipped. So we have still a long way ahead."
Agreeing with Sant, Bharat Electronics' Yuvaraj AR said that while the processes in customs has improved a lot with digitized systems and there are lot of improvements in payments and customs duty but supporting documents from the agents as well as freight forwarders and CHA also needs to be improved. "Unless they are at par, we cannot do the customs clearance or move the cargo on time. Hence, agility is required in terms of input and output in terms of customs as well as for operators of logistics," he said.
Vikram Vohra of Saudia Cargo was of the opinion that India needs to take examples of its neighbouring countries. Furthermore, there is an urgent need for collaboration among industry stakeholders. "Inorder to be able to shorten the time of transit, all parties have to work in tandem. So we need the airport, the customs, CHAs, forwarders and the airline to step up their efforts. As an airline, we are also constrained with certain slots, where we can or cannot operate – for example, Goa in India, since it is a defence airport. We see this in other countries as well. For instance, in China, many times the airspace is closed in Shanghai. We have to work together to get it going. We have to take examples of neighbouring countries in the region – say, Guangzhou in China where the airports are very big with infrastructure that caters to the future. We need to understand how they are dealing with it and how they are gaining with it."
Sant elaborated on certain measures that the customs has put forth to reduce the lead time. "According to a recent AEO scheme, nearly 95 percent of the shipments do not get examined by customs - that leads to faster clearance. Then, there is a deferred duty scheme, where you don't have to pay the duty at once, you can pay after 15 days. That leads to further reduction in lead time."
However, Yuvaraj felt that despite the lucrative schemes, the lack of collaboration plays a spoilsport. "Customs may have come up with innovative schemes like AEO, RMS clearance, green channel clearances however there is a disconnect between the airlines, agents and the customs. If all of them work together, the end user will be benefitted and we can do a lot in planning and moving the cargo," he said.
Touching upon the topic of the implementation of GST, Dr Suresh DN said, "Until GST came, we had states acting like two different countries so moving things within the country itself was becoming an issue. It costs more to get shipments from within the country to the port than from the port to the destination country. So as we promote Make in India, it is imperative to tackle this at the earliest."
Digital supply chains and how blockchain and other innovative technologies could revolutionise the supply chain framework were also important talking points.
"Technology is a great enabler. If you really want to put people out of the system, you need to handle technology better. If you standardize the system operations then the loopholes automatically get plugged. If you take the example of countries like Singapore, Hong Kong etc, everywhere technology has taken over the role of humans which is why they are able to meet deadlines sooner," said Dr Sandeep Garg, president, IESA.
Rajiv Mukherjee, CEO, Incubate Hub tried to decode intelligent supply chains to data analysis. "What is intelligence? Intelligence comes from a lot of data. Over the last three years, the kind of data that India is generating is phenomenal. When intelligence is built, systems can be smoothened. On top of that, with technologies such as blockchain, decentralization will happen. India needs to develop sandboxes so that the adoption of systems and technologies becomes faster," he said.
The last panel discussion on 'The future of logistics and supply chain for the high-tech industry' had speakers agree on a common point - with unpredictable markets and short product life-cycles, the logistics industry serving the high tech industry needs to continuously innovate to keep pace with the increasing supply chain complexities.
"Logistics is not a problem of human intuition; it is a problem designed for algorithms. We believe that supply chain is nothing but a bunch of numbers in constraint equations and it is a problem designed to be algorithmised. The backbone of logistics is B2B logistics. With B2C logistics, the time to completion of an order has drastically reduced to 24 hours. The same expectations have started coming up in B2B logistics, which made express the whole buzzword in B2B logistics," explained Nishith Rastogi, CEO and founder, Locus.sh.
"Data may be the new oil but we need to know where to use it and how to use it. Because that's what is supporting the new technologies and that's what will be the supply chain of the future. To enhance the customer experience and data generation part, it is necessary that there is a model and a clear architecture for the sharing of the information," said Cisco Systems' program manager Raghavendra Swaroop.
The day-long event ended with a promise to bring in more collaboration among stakeholders that could in turn help in reducing lead times – something that is very critical in the high tech industry.
Saudia Cargo, the cargo arm of Saudia Airlines, and Kempegowda Bengaluru International Airport (BIAL) were the key sponsors for the summit. Industry associations namely Indian Electronics & Semiconductor Association (IESA) and Federation of Indian Export Organisations (FIEO) also extended their support to the event.