AAI inks deal with Energy Efficiency Services for placement of LED lightings
March 6, 2018: Airports Authority of India has signed a Memorandum of Understanding (MoU) with the Energy Efficiency Services Ltd. (EESL) to replace e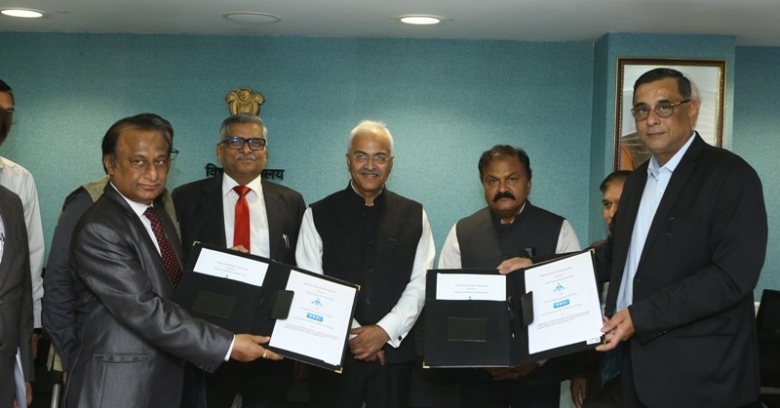 March 6, 2018: Airports Authority of India has signed a Memorandum of Understanding (MoU) with the Energy Efficiency Services Ltd. (EESL) to replace existing lights with energy efficient LED lights at various airports and buildings of AAI. The MoU was signed by Anil Kumar Sharma, executive director (Engg), AAI and Saurabh Kumar, managing director, EESL in presence of Ajay Kumar Bhalla, secretary, Ministry of Power, Dr Guruprasad Mohapatra, chairman, AAI and senior executives of AAI and EESL. ESSL is the implementing agency of UJALA (UnnatJyoti by Affordable LEDs for All),world's largest zero-subsidy domestic LED bulb programme.
The MoU entails the replacement of conventional light fixtures with LED fixtures on deemed energy savings based on Energy Service Company [ESCO] model where upfront investment is done and recouped on annuity basis during project period of five years by EESL. The entire project is estimated to cost approximately Rs 24.41 crores. EESL will carry out warranty replacement for a period of 5 years.
AAI has completed replacement of LED fitting for an expenditure of Rs 16 crores in Phase-I under National LED program launched by Prime Minister Narendra Modi. Through this replacement drive, approximately saving of 20 million units or Rs 14 crores approximately will be achieved, resulting in huge energy conservation and cost savings for AAI Airports.
During signing of MoU, Mohapatra said, "Around 20 percent of the total electricity consumption in airports goes for lighting loads. The replacement of existing lighting by LED lights by EESL, will bring huge benefits to AAI in terms of power savings, reduced energy bills. This MoU will ensure low capital cost of LED lights as EESL is large aggregator of demand".