Container Corporation marks 11.4% yoy growth during Q1FY19
July 31, 2018: Container Corporation has reported a strong YoY increase of +11.4 percent in Exim volume at 794,402 TEUs during Q1FY19. It has also marked similar growth in domestic at 142,559 TEUs (+9.7 percent YoY). However, volumes failed to pick-up sequentially. Even realisations continue to remain under pressure.
Concor Q1FY19 result highlights include sales growth to Rs 15.6 billion (+7.7 percent YoY), improvement in gross margins, higher other income, higher depreciation and higher effective tax rate led to recurring PAT of Rs 2.53 billion in line with the company's estimate.
The management has guided an overall volume growth of 10 percent in FY19. Increased double stacking, higher number of operational logistics park and improvement in business prospect bodes well for Concor.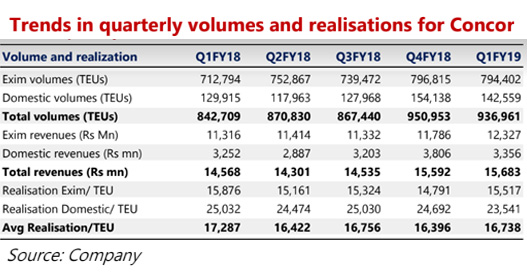 The quarterly performance highlights issues faced by Concor to maintain high market share and strong earnings growth simultaneously.  The current margins have already factored in the falling lead distance and high empty running. Further benefits of double-stacking, lower empty running, higher number of operational logistics park, improvement in business prospect with Dedicated Freight corridor (DFC) in FY20E and improvement in global and domestic trade is estimated to improve the business prospects, revenues and operational performance for Concor.
The leading rail freight transporter expects the next few years to be game changer for Concor, especially FY20, when it expects the Dedicated Freight Corridor (DFC) to be partially operational.